Type : cats
Material : PU
Size 1 : 40x50cm
Size 2 : 46x60cm Foldable
Size 3 : 55x70cm Foldable
Size 4 : 30x45cm
style : dropshipping 2019 new arrivals



Material: EVA. Made of high quality waterproof material, eco-friendly, washable, recyclable, wear-resistant and fade-resistant.Size: three sizes: 40 * 50cm / 45 * 60cm / 55 * 75cm

Double layer honeycomb: Double layer honeycomb design helps you to gather throws on the top layer and let go through the holes to the bottom layer. Prevents littering around. The lower layer is waterproof and does not leak any liquid.

WATERPROOF AND LEATHER BORDER: Cat litter mat's premium water-proof bottom layer made from Lightweight, Durable, Non-Toxic EVA Foam Rubber, it keeps wooden floors dry and is anti-slip. Leather edging prevents urine accidents from being transferred to you

EASY TO CLEAN: Black cat litter mat is much easier to keep clean than loofah-type mats.One way open edge allow for easy cleaning under sink head, shower head, or shake off.And just spread the edge out, you can easily pour the unused litter back into the

Honeycomb Design, the divided into two pieces, collapsible for storage,Lower layer is easier litter dumping.Separable design for more easier cleaning and maintaining - upper honeycomb hole layer can be removed from bottom layer, it makes cleaning task mor



SIZE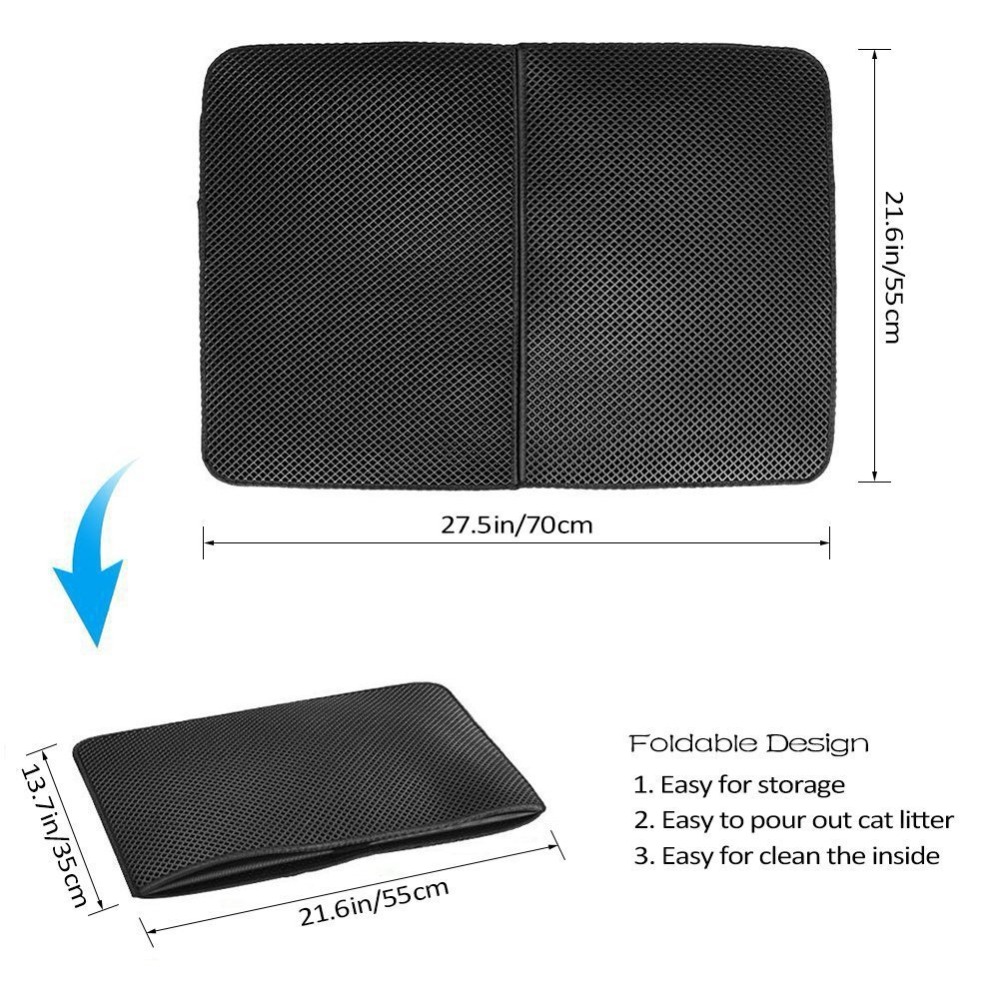 Cat Litter Mat EVA Double-Layer Cat Litter Trapper Mats with Waterproof Bottom Layer  Black Cat Bed
Traps litter from cats paws and litter from box
EVA material, super light, easy to carry
For really messy cats be sure to use puppy pads as they soak excessive urine
Super smooth surface, doesn't bother cat paws like other mats
Easy cleaning under sink head, shower head, or shake off
Size: 40x50cm , 46 x 60cm, 55 x 70cm
1. Non-toxic, soft and durable, low temperature resistant, suitable for cold weather, can be used year-round.
2. Double layer design, the top holes catch the sand from the paws of the cats, saving their unnecessary cleaning time.
3. Waterproof base coat keeps urine out of the ground.
4. Easy to clean, simply pour the sand or pour it back into the litter box, then rinse and replace.
1 x Cat Litter Trapper Litter Mat Clean Cat Mat with Water Proof Layer