RELEASE PAIN, STRESS & TENSION IN YOUR NECK & HEAD IN JUST UNDER 10 MINUTES!

Simply lie down on the Neck Pillow and let the weight of your head gently stretch the upper shoulder and anterior neck muscles.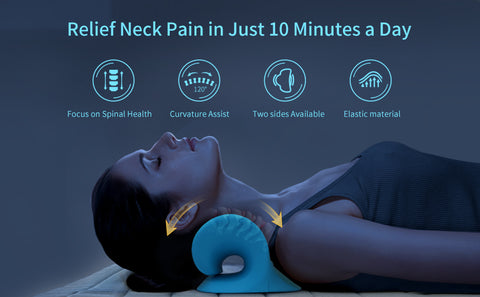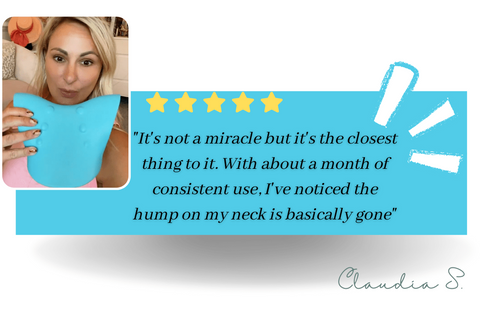 Benefits: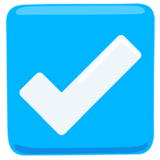 Relief Neck Pain & Headaches Instantly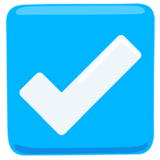 Improve Posture & Natural Cervical Alignment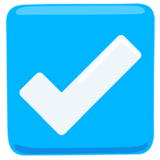 No More Painkillers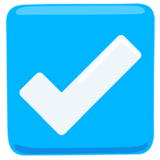 Save $1,000's In Massage, Physio & Chiro Fees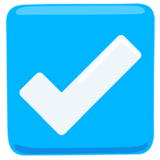 Improve Head & Neck Flexibility & Motion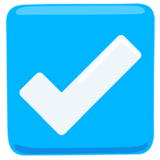 Prevent Muscles From Shortening & Shrinking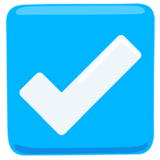 Reduce Inflammation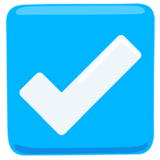 Release Tension & Stress on Jaw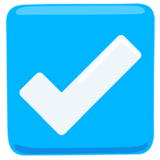 Bring Back Blood Flow & Nerve Function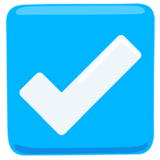 14 days money-back guarantee
Professionally Recommended To Treat Neck Pain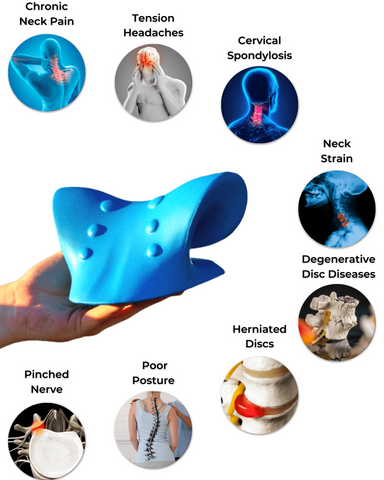 Naturally Eliminate Neck Pain
Quick and easy to use, With the Neck Pillow, you can stop relying on prescription pain killers and high risk neck surgery.
Do you get a stiff neck from staring at your phone, computer or TV?
Do you feel ache/sore from your side of the neck?
Do you feel neck pain?
If yes, then the Neck Pillow is for you.
⭐⭐⭐⭐⭐ "I have terrible chronic neck pain, headaches & pressure. I have been using this during a quick meditation & I immediately feel a difference. It helps that natural curve & really helps with the pressure & headaches. I am also a massage therapist & I have been using it for my clients. I love it & my clients love it! Highly recommend it." Thea L - NSW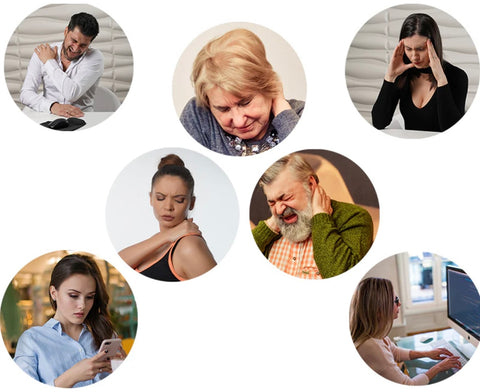 It's the ideal neck therapy for gamers, teachers, nurses, athletes, bodybuilders, drivers, office workers, gardeners, singers, artists and anyone who works at a desk or spends hours in front of a cellphone, computer or television.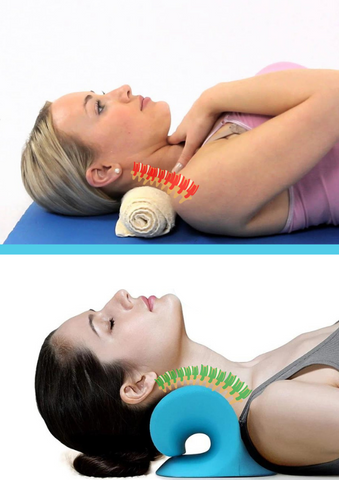 Breakthrough Discovery
Have you tried several other neck pain products that promise the world and fail to deliver?
You're not alone.
The problem is with other neck products that we have tried, it targets one element of neck pain relief.
Thus, the relief is short term but it does not fix the underlying root cause of neck pain/discomfort.
Which is the long term goal of Neck Pillow..
What we found out after testing is that the secret sauce is the combination of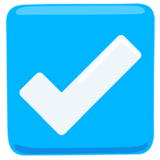 acupressure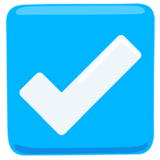 sub-occipital muscle stimulations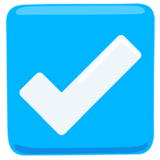 and the three-way system of cervical traction.
Which the Neck Pillow provides in just 10 minutes a day.
The Neck Pillow is made specifically for use around the neck.
With the Neck Pillow, you get instant relief from Chronic Neck pain.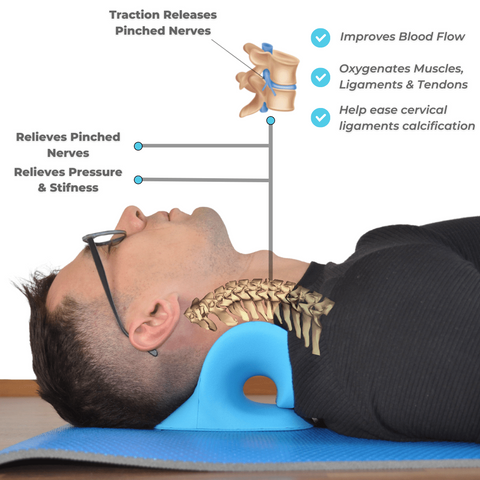 More Effective in Eliminating Pain Backed By Science
This breakthrough combination causes the deep muscles in the neck to reset and return to a much relaxed state.
Then, the three-way system of cervical traction allows compressed discs to open and relax. This combination: relieves pressure on pinched nerves, decompresses discs, improves posture and floods the neck area with nutrient and oxygen rich blood. The result is instant relief from chronic neck pain, TMJ and headache.
And with consistent use of the Neck Pillow, providing long lasting neck pain free.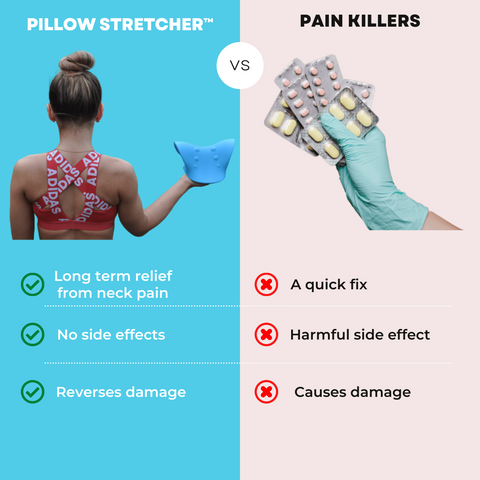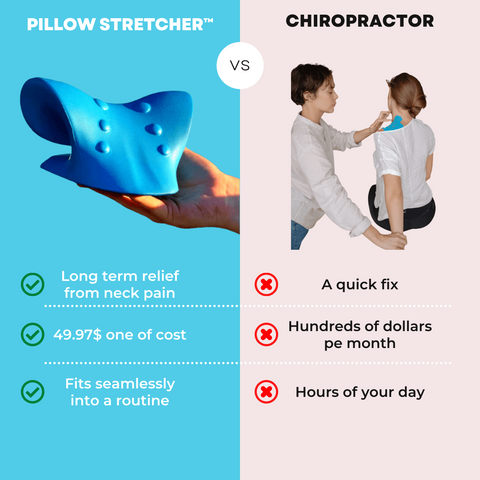 Neck Saving Benefits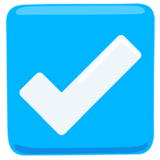 Instant Pain Relief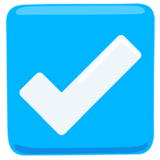 Relief from chronic neck pain, TMJ and tension headache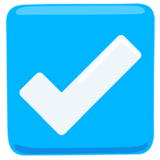 Drastically improves posture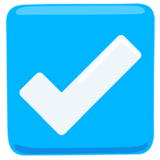 Increase flexibility in neck and shoulder region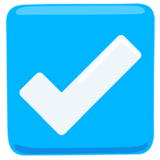 Increase of nutrient rich blood to neck area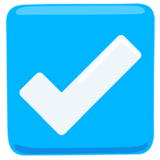 Reduces impact of chronic problems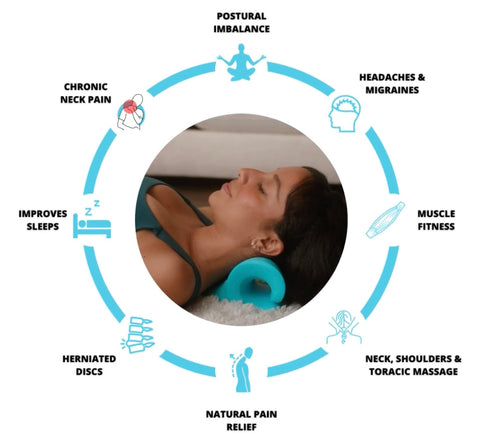 Damage Reversing
 When muscles are stressed and contracted, they choke off their own blood supply, causing damage and impacting their ability to heal. 
When you use the Neck Pillow, it provides an effective way to release muscular tension allowing a proper blood flow of nutrient rich blood to the neck and shoulder area.
 This aids in recovery and can reverse significant damage to the neck region. This results in long term relief from neck pain and muscular soreness.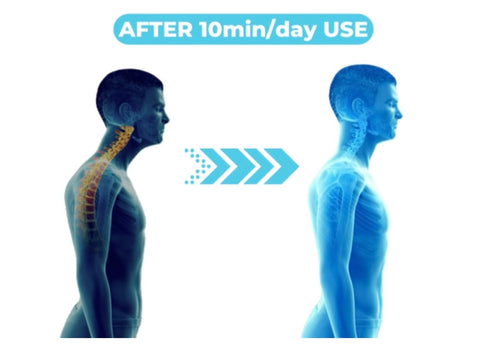 The Perfect Stretch Every Time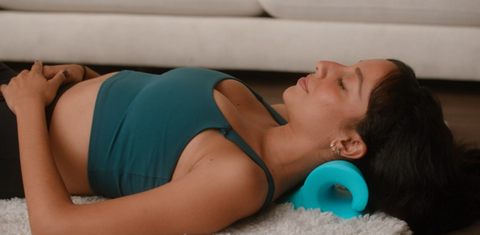 The Neck Pillow has two levels: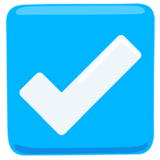 the convex side
Provides a reduced amount of traction and is ideal for someone with severe neck pain and a poor range of motion.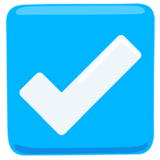 The concave side
Provides the greatest stretch and is perfect for more advanced users.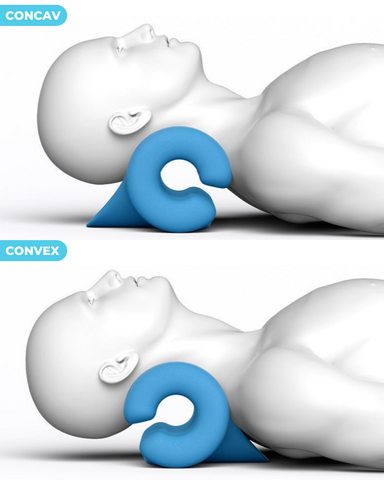 Professionally Designed & Recommended
Chiropractors and massage therapists aren't always in arms reach.
Get relief when you need it most.
 The Neck Pillow has been designed and recommended by chiropractors around the world as an effective way to get pain relief.
 For less than 1/5of the cost of one therapist treatment, you can get results that last a lifetime.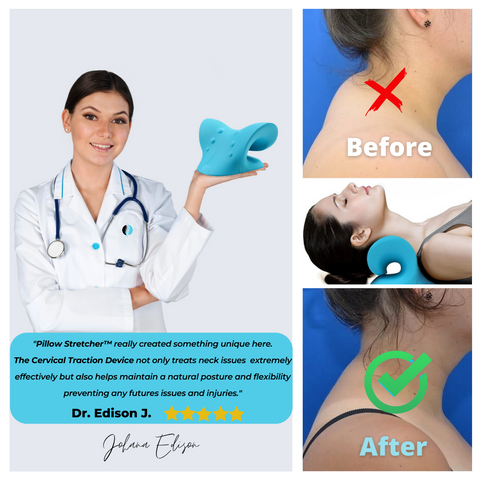 Fantastic Quality Of Life

Neck pain, soreness and other ailments like TMJ or tension headaches can wreak havoc on your life. Everyday activities are a constant reminder of the pain you constantly feel.

Today, you have the power to make a change. In eliminating your pain, the Neck Pillow creates the secondary benefits of: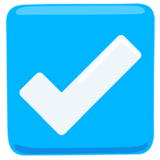 A pain free sleep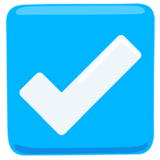 Amazing posture and confidence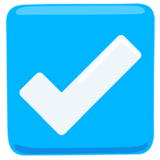 Improved focus at work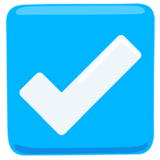 Elevation in mood

You can finally get back to living again.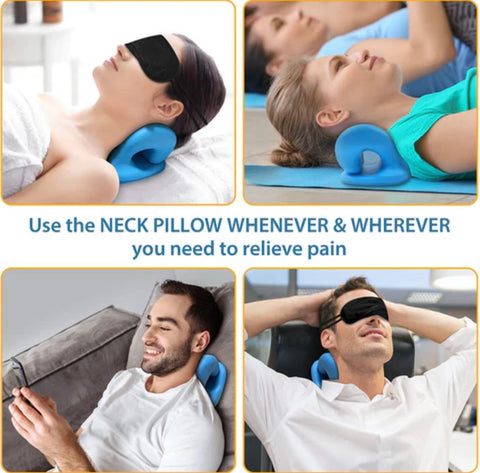 FREQUENTLY ASKED QUESTIONS:
Who is this device for?

It is for gamers, teachers, nurses, athletes, bodybuilders, drivers, office workers, gardeners, singers, artists and anyone who works at a desk or spends hours in front of a cellphone, computer or television.

Does it help with neck pain?

Yes, Instantly! Our Neck Pillow will provide instant relief from neck pain & tension the first time you use it. With consistent use over a two week period you will gain benefits that last a lifetime.

How do I use the Neck Pillow?

1. Lay the neck pillow on the ground, with the the start of the S facing towards you .

2. Slowly place your back down followed by your neck.

3. Place your arms over your head and stretch out! 

4. Feel the massage and relax.

E-book will be provided to you so you can do it step by step (with pictures!)

How long should I use it for?

 We recommend starting with two 5 minute periods a day and building up towards a continuous 10 minute session. This will ensure lasting results and continued comfort. Over time, it will significantly improve your posture and strengthen your muscles. 

Will this treat my specific issue?

Our Neck Pillow is perfect for treating: chronic neck pain, tension headaches, tight & sore neck muscles, desk posture as well as upper back & shoulder pain.

What are your payment methods?

NEW! We now accept payments such as G cash, Grabpay, BPI, Paymaya etc. via Paymongo at checkout. Just choose paymongo when paying, it will automatically direct you to our new payment methods.

What is the weight limit?

Our Neck Pillow is built from incredibly strong foam material. This means it can withstand a weight of up to 150kg/330lbs. 

 What is the ebook about?

Order TODAY to get our Neck Pillow Ebook for FREE. It is a 24 page detailed e-book, regarding how it works, the background of the invention + details on how you can best make use of the Neck Pillow (+ pictures). Kindly add your email address at checkout, so you can receive your gift!

What is your free E-GIFTS?

Ordering TODAY gives you a free Neck Pillow Ebook, the science of back pain relief + revealed inside: the best exercises for neck pain chiropractors don't want you to know about! but if you order 2 or more, you get a free E-COURSE (new release) that is more detailed (+ pictures).

Yes, You get (worth $79+) of free stuff and more importantly, information that is helpful and enjoyable too.

E-GIFTS is FREE FOR TODAY ONLY!

Does It Hurt?

Not really. The acupuncture pins and groves are ergonomically designed to be placed on the muscles knots. Nothing Fancy. No electricity, no motors. If you feel the tension or pain using it, it proves that your body has been holding that much pressure over the years. Use Neck Pillow regularly for best results. It will help your neck release stress & tension. You'll be amazed how good it feels after a session!

  
 Try Neck Pillow risk-free for 14 days. If you are not satisfied, please contact our customer support within 14 days of receiving your order.